Time for straight talking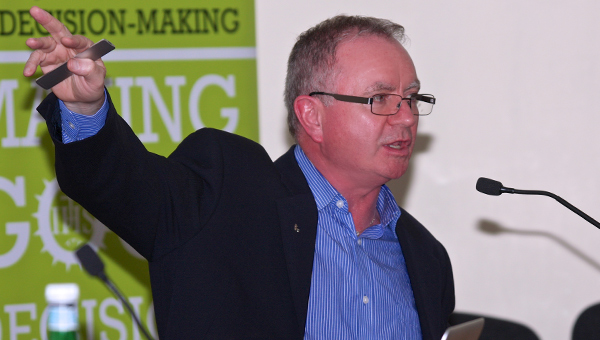 "When someone dies by suicide we ask 'Why did it happen?' And we need to say to each other that we do not know and we never know." So said Professor Jim Lucey, psychiatrist and Medical Director of St Patrick's Hospital, during a powerful talk at the launch of Brendan McManus SJ's book Redemption Road, Grieving on the Camino » on Thursday 2 October in Milltown Pk.
He went on to say that he was someone who read many suicide notes and "they don't enlighten us either. The dead don't leave any answers." What we can say, he went on, is that people who take their own lives are in mental distress and have mental health needs "and we believe they could be helped if they had the mental health services".
Brendan McManus (see photo) wrote his book a number of years after his brother Donal's death by suicide. He realised that he was still in deep turmoil and pain over what had happened and decided to walk the toughest 500 miles of the Camino, 'alone and on foot', carrying Donal's Barcelona football shirt in his rucksack. He learnt many things on the hugely difficult uphill trek. At the very end, he made a final short journey to Finisterre, where something happened that totally transformed his pain and grieving.
Professor Lucey described Brendan's book as 'beautiful' and 'authentic'. He said the challenge of mental health today was to have it discussed openly and truthfully, and Brendan had done just that in his book. So too did Jim Lucey himself in his talk. Quoting Professor Kevin Malone, he said that every 18 days an 18-year-old takes their own life. He said this was a huge problem and challenge for the Irish people. He said we had to address this by talking openly, as Brendan had done, about suicide and recovery. And he said the proposal not to record death by suicide on a death certificate was a folly.
He noted that Brendan felt his brother was failed by psychiatry, that 'he was drowning in a sea of lifeguards', as Brendan put it. As well as acknowledging this, he continued, psychiatrists had to face the challenge he posed. "His experience can't be denied and psychiatry needs to accept that it can neither prevent nor reliably predict suicide." He said this was a relief to psychiatrists, "but it's something we've not said enough for fear of presenting as ineffectual in this area".
He said that at the same time, it had to be borne in mind that mental distress and disorder are highly treatable and we need to open up our health services and make them more available to people. "It's a national shame that this is not the case," he said.
He also admitted that in the past psychiatry was narrowly focussed, and constrained by a rigorous and restrictive empirically-based scientific method that absented God. But now it was fair to say that modern psychiatry had recovered from that 20th-century abyss, had learnt from the witness of people like Brendan and his brother Donal, and were incorporating their insights as 'experts by experience'. Noting that the walk of healing Brendan undertook was 'a spiritual journey', he said that modern psychiatry respects the faith in God which was so valuable to the author's recovery.
The book is in its second printing and has received much publicity and favourable reaction on RTE radio and television.
Brendan gave a photo-illustrated talk about his Camino journey and the many lessons he learnt along the way, all in the spirit of Ignatian insights and wisdom. He thanked all who had helped him on his journey of recovery including his publishers, Orpen Press. His book is available in all good bookshops and online at Amazon.